Prevent the spread of Coronavirus this winter
With cases increasing in the UK we all need to take action to suppress the virus. The 'Hands. Face. Space' public information campaign urges the public to continue to wash their hands, cover their face and make space to control infection rates.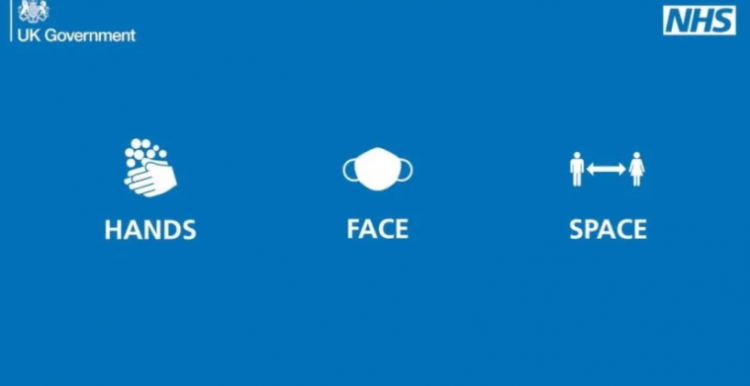 The new Government's campaign aims at reducing the spread of Coronavirus indoors and avoid a second peak. It is critical that everybody observes the following key behaviours:
HANDS - Wash your hands regularly and for 20 seconds.
FACE - Wear a face covering in indoor settings where social distancing may be difficult, and where you will come into contact with people you do not normally meet.
SPACE - Stay 2 metres apart from people you do not live with where possible, or 1 metre with extra precautions in place (such as wearing face coverings or increasing ventilation indoors).
Social Distancing
To reduce the risk of catching or spreading coronavirus, try to keep at least 2 metres away from people you do not live with. You should also avoid physical contact, being close and face-to-face, whilst avoiding crowded areas and touching things that other people have touched. 
You do not need to socially distance from anyone in your household, meaning the people you live with. You also do not need to socially distance from someone you're in an established relationship with, or anyone in your legally-permitted support bubble if you are in one.
Meeting other people
Limits on the number of people you can see socially are changing.
From Monday 14 September, when meeting friends and family you do not live with you must not meet in a group of more than 6, indoors or outdoors. 
If your household (and/or support bubble) is larger than 6 people, this is your largest permitted group and you cannot meet as a group with any additional people.
You should continue to maintain social distancing with anyone you do not live with.
There is further guidance on meeting with others safely, which includes details of exemptions from this limit, including for larger households and support bubbles.
Exemptions can also be made for informal childcare and caring arrangements for vulnerable adults between different households.
What you can and can't do
Detailed and specific government advice and legal requirements have been published and are regularly updated.
It is not possible to reproduce the advice in full here however we have linked to the relevant sections of the Government guidance below:
3.Visiting public places and taking part in activities
4.Clinically vulnerable groups and clinically extremely vulnerable groups, and care homes
5.Going to work and being COVID-19 Secure
Sources of information
If you have any  questions or concerns contact us by the details below and we will work to find you an answer.
020 8099 5335
info@healthwatchrichmond.co.uk
Can I (or the person I care for) be tested for coronavirus?
Testing is a key pillar of the Government's strategy to protect the NHS and save lives. The testing capacity has been expanded to include anyone with symptoms (in England).