Traveling abroad during Coronavirus
If you are planning on traveling abroad, read the below guidance on what you need to do, what countries are under the travel ban, completing your passenger locator form and taking part in the optional Test to Release scheme.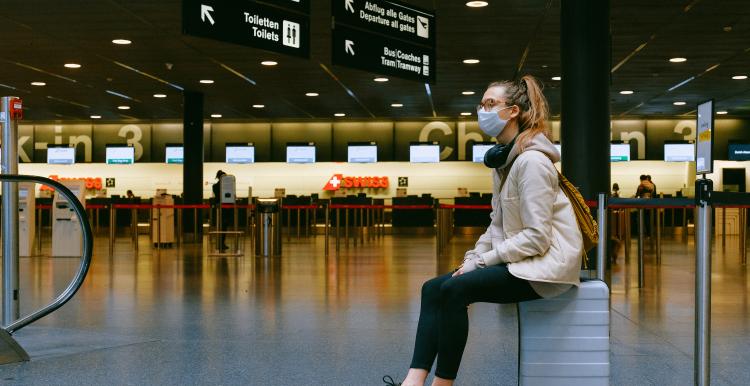 International Travel
You can only travel internationally – or within the UK – where you first have a legally permitted reason to leave home. In addition, you should consider the public health advice in the country you are visiting.You should not travel abroad unless it is permitted, this means you must not go on holiday.
If you are returning to the UK from abroad you must show proof of a negative coronavirus test taken up to 3 days before you board your flight. Failure to provide this means you will be denied entry into the UK and will be fined £500. You must complete the passenger locator form up to 2 days before your arrival in the UK. From 15 February, upon your arrival you will be required to self-isolate at the place you are staying for 10 days, and under the new rules you must take a COVID-19 test on  days 2 and 8 of your self-isolation. Test to Release will continue to be in operation – however, arrivals will still be required to purchase the 2-testing package.
If you are visiting the UK, you may return home. You should check whether there are any restrictions in place at your destination.
If you are planning to visit another country you should check their rules for visitors either by checking the government foreign travel advice or by contacting their embassy as many countries have rules over quarantining new arrivals.
Check the latest government travel guidance
Traveling from 'Red List' Countries
People who have been in or transited through the countries in this list will not be granted access to the UK. This does not include UK or Irish nationals, or third-country nationals with permanent residence in the UK.
From 15 February, anyone who has been in or through any of the 'red list' countries in the previous 10 days will be required to purchase a quarantine package. Bookings will be made through an online portal and will include: 
assigned government transportation
food and drinks
accommodation in a government-approved facility
security
welfare
testing
The charge for a single adult will be less than £1,750.
To ensure compliance, fines will be issued and will range from £5,000 rising to £10,000 for arrivals who fail to quarantine in a designated hotel. A £1,000 penalty will also be given to any international arrival who fails to take a mandatory test, followed by a £2,000 penalty to any international arrival who fails to take the second mandatory test. This will be accompanied by an automatic extension of the quarantine period to 14 days.
Passenger locator forms will now not only detail their travel journey but also their quarantine and testing package. Anyone attempting to conceal that they have travelled in a 'red list' country on their form could face a £10,000 fine or prosecution and up to 10 years in prison.
Passenger locator form
If you travel abroad you will have to complete a passenger locator form and self-isolate on arrival for 10 days upon return. All travel corridors have been suspended.
To complete the form you need:
your passport details
your travel details, including times and dates
the address where you will stay in the UK (if applicable)
a booking reference number and the name of the test provider, if you're using Test to Release to find out if you can end self-isolation early
You can submit the form any time in the 48 hours before you arrive in the UK.
You can include multiple journeys in your form if you'll enter the UK more than once in a 48-hour period.
Complete your passenger locator form here
Test to release for international travel scheme
The Test to Release scheme starts 15 December, and it is for people who need to self-isolate on arrival in England. 
How to take part in the scheme: 
You must book a test with a private test provider, you will need to pay for this
Choose to opt into the scheme on the passenger locator form
You should book your test before you travel to England. This is so you can enter details of the test when you opt into the scheme on the passenger locator form
If you decide to take part in the scheme after you have arrived in England, you will need to complete another passenger locator form.
You will have to pay the private test provider for your test. You will need to book an individual test for each person opting into Test to Release, including children.
The test provider will either send a test to your address or you can attend a testing site. You may leave your house to post your test or to travel directly to and from the testing site. 
Scheme rules: 
If you test negative, you can stop self-isolating
If you test positive, you will need to isolate for another 10 days, and count the 10 days as starting when you took the test, or when you first had symptoms, if that is earlier.
If you are told to self-isolate by the NHS Test & Trace app, you must do so even if you have tested positive. 
If you are told to self-isolate by the NHS Test & Trace app before you take the test, you must cancel your test and continue to isolate for 10 days from when you were last in contact with the person who tested positive 
Traveling back to the UK from abroad checklist
You must show proof of a negative test in the 3 days before departure
You must complete a passenger locator form 2 days before arriving in the UK
You will be checked again by frontline airport staff and Border Force upon arrival – passengers arriving without a completed form and negative test face a £500
If you have been to a red list country in the past 10 days you will be denied entry into the UK unless you have a residency right
You must then self-isolate in the place you are staying for 10 days after you arrive and have a test on days 2 and 8 of your self-isolation