Your Guide to Richmond's NHS, Care and Support (Spring 2022)
The NHS, social care and local charities provide a range of help. We've produced this downloadable leaflet to help you find the help when you need when you need it.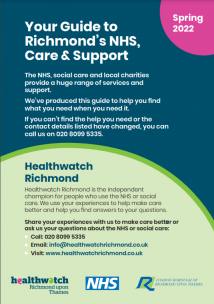 Organisations will be working differently as a result of the Coronavirus but most will still be offering support.
If you need anything or can't find what you need in the Guide call Healthwatch Richmond on 0208 099 5335
Download the guide here.
If you've got a question but don't know who to ask:
call us on 020 8099 5335.