Long Covid (also known as Post-Covid Syndrome) consists of symptoms similar to those of Covid-19, which last for more than 12 weeks after a Covid infection.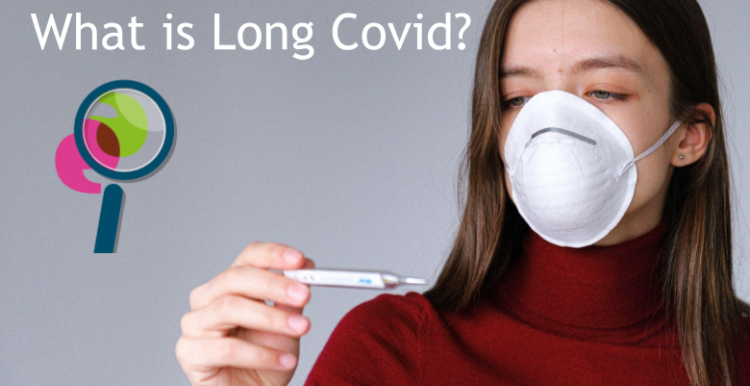 What is Long Covid?
Many people feel better in a few days or weeks after catching Covid-19, and most will make a full recovery within 12 weeks. But for some people, symptoms can last longer. The chances of having long-term symptoms does not seem to be linked to how ill you are when you first get Covid-19. People who had mild symptoms at first can still have long-term problems.
Symptoms include: 
extreme tiredness (fatigue)
shortness of breath
chest pain or tightness
problems with memory and concentration ("brain fog")
difficulty sleeping (insomnia)
heart palpitations
dizziness
pins and needles
joint pain
depression and anxiety
tinnitus, earaches
feeling sick, diarrhoea, stomach aches, loss of appetite
a high temperature, cough, headaches, sore throat, changes to sense of smell or taste
rashes
How do I know I have Long Covid?
If you have some of the symptoms above, have had them for more than 12 weeks, and noticed that they started after an infection consistent with Covid-19, then it may be Long Covid. If you feel like your condition is not improving, or is preventing you from doing certain things, you should talk to your GP about it. 
What support can I get for Long Covid?
Depending on your symptoms, different types of support can be available to you. Your GP is the best way to access it, so you should talk to them about it. 
The NHS Your Recovery website is here to help you throughout your Covid recovery. The NHS in South West London has also created a web page to share self-help resources and links to local service that are available to people who are experiencing Long Covid.
Have you experienced long-term effects of Coronavirus? We want to hear from you!
Get in touch to share your experiences:
Call: 0208 099 5335