Prime Minister sets out plan for living with covid-19
On February 21 the Prime Minister announced the next steps for living with Covid-19, including the lifting of restrictions in England.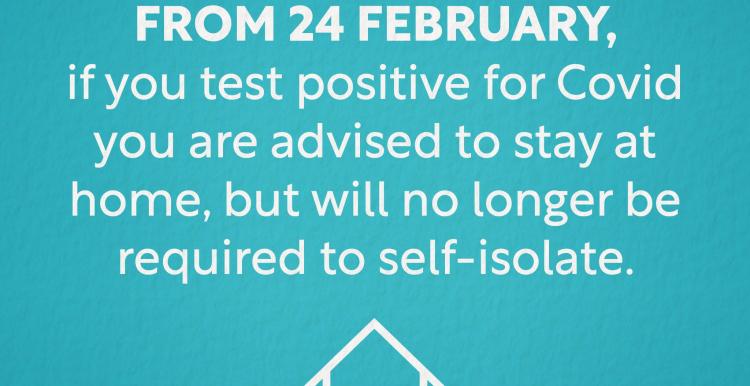 Starting from tomorrow Thursday 24 February, the Government will remove the legal requirement to self-isolate following a positive test. Adults and children who test positive will still be advised to stay home and avoid contact with others.
Tomorrow 24 February will also mark the end of routine contact tracing: contacts will no longer be required to self-isolate or take daily tests. On 21 February the Government also removed the guidance for staff and students in most education and childcare settings to undertake twice weekly asymptomatic testing.
From 1 April the government will no longer provide free universal symptomatic and asymptomatic testing for the general public in England. There will be some ongoing symptomatic free testing for a small number of at-risk groups (the Government will set out further details on which groups will be eligible) and for social care staff. Tests will be available for purchase at retailers and pharmacies.
People are still advised to follow general guidance to reduce the risk of catching and passing on Covid-19. Guidance suggests:
Getting vaccinated. For people who have yet to take up their initial vaccine offer, the NHS continues to make vaccines available across the UK to ensure that every eligible person who wants a vaccine can get one. Vaccination is the best way to protect yourself from severe covid-19.

Letting fresh air in if meeting indoors, or meeting outside;

Wearing a face covering in crowded and enclosed spaces, especially where you come into contact with people you do not usually meet, when rates of transmission are high;

Trying to stay at home if you are unwell;

Taking a test if you have COVID-19 symptoms, and staying at home and avoiding contact with other people if you test positive;

Washing your hands and following advice to 'Catch it, Bin it, Kill it'.
To find out more about upcoming changes in testing and restrictions, and how to protect yourself and others from Covid-19 read our summary here.