Read our 2014/15 Annual Report. This demonstrates how we continue making a difference to local health and social care services.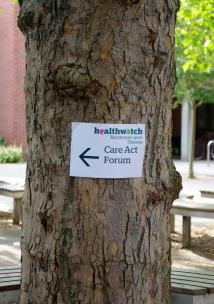 Highlights of the 2014-15 year for Healthwatch Richmond:
Through 63 outreach sessions and visits, and 4 public events, we engaged with and spoke to over 1000 people
We sent 67 bulletins and newsletters giving people information on 220 opportunities to have their say in NHS and social care issues
We interviewed over 100 patients through 34 visits to 6 wards at West Mid Hospital and worked with staff to turn patient experiences into meaningful change
We undertook 10 visits to 5 GP practices with another phase of visits already completed in 2015/16
We challenged the regulation of supported living environments at a national level
We worked with Richmond Council, Richmond CCG, CQC and NHS England to coordinate our activity, identify and shape local services.
We were used as an example of good practice nationally for Healthwatch.