Experience Matters: Annual Report 2020/21
2020/21 was our busiest and most successful year to date. Find out more about it here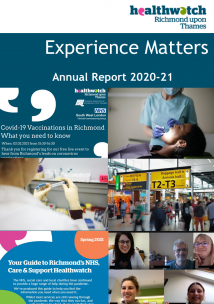 I called you last week to find how to get a dentist. It worked really well for me. I got an appointment with a local dentist and was able to solve my dental issues very quickly. Thanks to you I am not in pain anymore.
Outcomes from our year
Improving Care
2,438 people engaged with us through our projects and outreach and we published 6 reports raising issues with providers and commissioners with impacts including:

Our work was instrumental in identifying the crisis in dental care and pressing NHS England for improvements. We've also helped 75 people to access dental care through our signposting service

Urgent Dental Care Hubs set up in response to us and our network raising concern about national crisis in dentistry
Improved access to medication deliveries for vulnerable people across Richmond and beyond as a result of our work to influence a national pharmacy chain
Maternity care significantly improved as a result of a comprehensive review we undertook.
Ensuring people felt safe enough to attend appointments. The NHS launched a communications campaign explaining how people are kept safe from the virus at appointments.
In the past fortnight I have spoken to 111, 119, GP, Nurse at Vaccination Centre, Richmond Council, West Mid and the Community Hub. Everyone was very sympathetic but they couldn't help. You provided a clear understanding of our situation and how to proceed. When that didn't work you connected all of these unfathomable dots on our behalf and this morning I had a call & text confirming an appointment for a vaccination. Thanks again for everything, we appreciate it enormously.
Highlights from our year
Helping people to get information
100,000+ people engaged with communications (15 x last year)

78,000 people used our website
87,000 Guides to NHS, Care & Support delivered to homes across Richmond
864 people got answers to their questions:

414 via our signposting service, up 29% from last year
450 people got answers to their questions about vaccinations through our events
Responding to the pandemic
225 DBS checks processed for volunteers working with local charities to support our community

9,000 additional shopping trips or other support were made by these volunteers to vulnerable local people

We set up a Community Hub phone line providing a direct line for vulnerable people to community support
I just wanted to comment on how helpful the NHS and care guide is which just came through the door. It is incredibly reassuring to know there is such a breadth of support and care - and it's so clearly put together in the guide.
Read our full Annual Report below