Championing what matters to you: Annual Report 2021/22
"Throughout, our overriding concern was to maintain our effectiveness in serving the interests of Richmond residents, patients and service users." - John Anderson, Chair, Healthwatch Richmond. Read the report here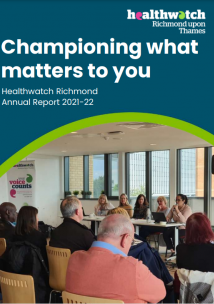 The insight from Healthwatch Richmond and the wider network has been a vital part of making the £50 million investment in NHS Dentistry happen.
Highlights from our year
Responding to the pandemic
£50 million investment in NHS Dentistry: We made a major contribution to securing this which was recognised in Parliament.

3,000 people booked or accessed Covid-19 vaccines through our website and communications.
Shortlisted for an award in recognition of our Covid 19 response which enabled 232 additional Richmond residents to access care and support over the pandemic saving them an estimated £182,300 for the equivalent private care.
The report provides data and insights which the Richmond Post Covid Steering Group will use to inform the ongoing development of local Long Covid Services. We look forward to continuing to work closely with Healthwatch Richmond in this area.
Helping people to access information
96,936 people found information and 59,471 people took actions related to their health or care needs through our website (up 23% from 2020-21).

87,000 Guides to NHS, Care & Support delivered to homes across Richmond

372 people got support from our signposting service, down 10% from the peak of the pandemic.

300 people attended our in-person events including 85 at our Black History Month event which ran at Covid secure capacity.
Without you, we wouldn't have known where to turn, so thank you very much for all your help and advice so far.
Improving care
1,162 people shared their experiences with us through 3 projects, 36 outreach sessions and 6 community events.

Long Covid support better meets patient needs as a result of our research and these outcomes are being rolled out across South West London as a result of our partnership with other Healthwatch.

Adult Social Care Commissioning budgets will be better used as a result of our research into care at home and personal budgets.

Public Health have commissioned us to help ensure that the best use is made of their prevention resources and that wider services reduce ill-health, inequality and demand on Social Care in 2022/23.
I just wanted to comment on how helpful the NHS and care guide is. It is incredibly reassuring to know there is such a breadth of support and care - and it's so clearly put together.