The Vineyard Surgery: GP Project
We conducted Enter and View visits to The Vineyard Surgery, this was part of the wider GP project undertaken to identify both positive areas of practice and areas for improvement.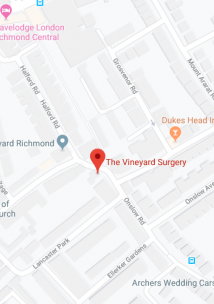 The Vineyard Surgery is located in Richmond and has approximately 4,000 patients. The practice website lists five Doctors, two nurse practitioners, one practice nurse, two healthcare assistants and four administrative staff.
Summary
Patients reported a low awareness of what to do if unwell outside of normal hours. We asked the practice to provide clear and readily available information about how to access Out of Hours Service
Some patients told us they face difficulties getting an appointment
We observed that the practice was clean and tidy and patients confirmed that the practice was normally clean and hygienic 
Most patients described confidence with clinical staff, however a large number of patients reported a lack of confidence with the trainee doctors. This is a teaching practice and the practice assured us that the students are supervised throughout their contact with patients.
Most patients expressed satisfaction with the care they received and were pleased to recommend the practice to friends
We recommended that the practice provide information for patients about the community services available
For further information please read our full report available below.
Reviewing GP services
In total we reviewed just under half the GP Surgeries located in the borough. Are you interested in reading the reports of the other GP practices we have visited?