Broad Lane Surgery: GP Project
We conducted Enter and View visits to Broad Lane Surgery, this was part of the wider GP project undertaken to identify both positive areas of practice and areas for improvement.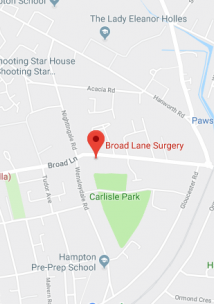 Broad Lane Surgery is located in Hampton and has a total of 4500 registered patients. The practice has a GP partner and a salaried GP, a Managing Partner overseeing four administrative staff, a Practice Nurse and a Healthcare Assistant.
Summary
The surgery's environment was described as modern, light, airy, clean and recently decorated.
Most stated that they were satisfied with the appointment booking system, with negative experiences reporting needing to call early in the morning to book an appointment
Staff were generally viewed positively by patients, although there were some mixed comments. A small number of patients told us that one doctor had an inconsistent approach
Reception staff received mixed reviews from patients. We raised these concerns with the practice and were told any negative comments from patients were discussed with staff and training needs identified
The Patient Participation Group (PPG) appears to work closely with the practice and that PPG members feel fully supported and listened to
For further information please read our full report available below. 
Reviewing GP services
In total we reviewed just under half the GP Surgeries located in the borough. Are you interested in reading the reports of the other GP practices we have visited?