Essex House Surgery: GP Project
We conducted Enter and View visits to Essex House Surgery, this was part of the wider GP project undertaken to identify both positive areas of practice and areas for improvement.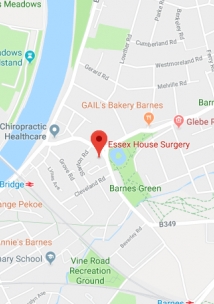 Essex House Surgery is located on Station Road, Barnes and has a total of 9000+ registered patients. The practice has one Practice Manager, seven GPs and two trainees, one Physician Associate, two Practice Nurses, one Health Visitor, one Community Nursery Nurse two Healthcare Assistants, and a team of Medical Administrators.
Essex House is a training surgery using the current new diagnostic model which uses Physician Associates to diagnose possible conditions.
Essex House was the first General Practice Hub site to be established meaning that the practice receives patients from other surgeries that need a same day appointment or an appointment of their choosing with extended hours or weekend appointments
Essex House puts emphasis on quality, training and teamwork. We are extremely unusual in the commitment of resource, both time and financial and we could argue that is the best investment we make. Our stable committed team (even in the challenging environment of the NHS) hopefully is a reflection of this.
Summary
Patients were satisfied with the practice and all the patients we spoke to said they would recommend the practice to family and friends
On the day of the visit the rooms we visited, which included the waiting areas, appointment rooms and toilets, were clean and airy
All of the patients told us that the staff acted in a professional manner, were respectful and considerate and had the skills needed to carry out their care
We recommended that the surgery look into including visual information to inform patients that they are being called or to inform staff when hard of hearing patients are called for an appointment
For further information please read our full report available below. 
Reviewing GP services
In total we reviewed just under half the GP Surgeries located in the borough. Are you interested in reading the reports of the other GP practices we have visited?