Enter & View Report: Nightingale House
As part of a series of Enter & View visits to assess local care homes, we have published our report on Nightingale House.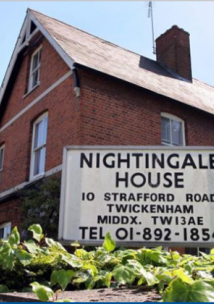 A private residential care home located in central Twickenham, situated near the River Thames and close to public transport. It has accommodation for 21 residents.
What we did
The report is based on a visit on 1st December 2016 by two volunteers and a Healthwatch Richmond employee. For each Enter & View visit, Healthwatch Richmond uses it's statutory powers to visit homes, talk to residents, relatives and staff, and request information.
Following our initial recommendations, we revisited the home in July 2017 to asses if actions had been taken based on our recommendations.
Summary
We found that there was generally a positive atmosphere in the home, with good care. Improvements are taking place compared to some concerns on a previous visit.
Eight weeks before the visit, Nightingale House appointed a new manager who is making changes to the home, including improvements to staff training, the introduction of new care plans, and fall prevention strategies for residents. There had been a number of management changes over the last year.
During the visit we witnessed a resident at risk of falling down a flight of stairs. We alerted the home's staff who responded immediately to keep the resident safe. They also took steps to reduce future risks, by leaving the door at the top of the stairs closed and fitting sensor mats to allow staff to be alerted to the resident leaving the room.
Overall, residents' comments were positive. They included that "staff look after you very well" and are "very caring", and a relative said Nightingale House was "less institutionalised than other homes".
Our report makes a number of recommendations. These included to continue updating care planning, with residents' and relatives' involvement, and to continue introducing measures to reduce potential falls.
At the follow up visit in July 2017 changes had been made including improving notices for residents, and is involving relatives more in dedicated meetings.
For more information please read our full report available for download below. 
Reviewing residential care
Are you interested in reading the reports about other care homes in Richmond?