The future of adult social care - event report
'The lives we want to lead' – a discussion on the future of adult social care in Richmond upon Thames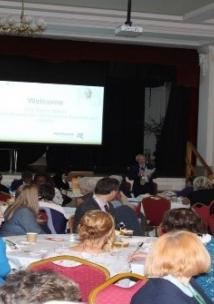 On 13th September 2018, Healthwatch Richmond and Richmond Council ran a public event on the future of adult social care. Over 90 local residents, professionals and council members attended and shared their views on how the system should change to meet rising demand and how any proposed changes should be funded.
The event was part of the consultation by the Local Government Association who estimate that adult social care will face a funding gap of £3.56 billion by 2025 due to growing demand from an ageing population and as inflation and other financial pressures faced by councils continue to build.   
There was near unanimous agreement over the importance of an effective delivery of adult social care and that currently it is significantly underfunded. This led to ramifications across the system with several people highlighting the following:
The additional stress that funding challenges have on carers already under pressure; compounded by a lack of support available to carers in the borough
The negative impact of the adverse financial climate on staff turnover, recruitment and retention and how that affects quality and consistency of care
Lengths of stay in hospitals increasing due to services not always being available to facilitate people's return home.    
An overall feeling that the threshold for accessing adult social care is rising, leaving people with unmet needs and that the quality of care itself is declining alongside a lack of flexibility in services available.
As can be expected there was no overall consensus on the best mechanism for funding future social care. Although people were in strong agreement that any money raised should be ring-fenced for adult social care so it cannot be spent elsewhere. Increased taxation through national insurance was generally seen as an attractive option as this would be relatively easy to administrate and raise significant funds. There was also a demonstrable appetite for ensuring any system can pay providers and carers a fair price to guarantee a good standard of care and that safeguards are in place to recognise those who can or cannot afford to pay for their care.
The findings from the LGA consultation will inform and influence the Government's upcoming Green Paper on adult social care, which is due to be reviewed from Autumn 2018. 
'The lives we want to lead' – a discussion on the future of adult social care in Richmond upon Thames Event Report.